With our specially developed 3D app, you can try on and customize each of our eyewear designs virtually. This allows several thousand possible designs.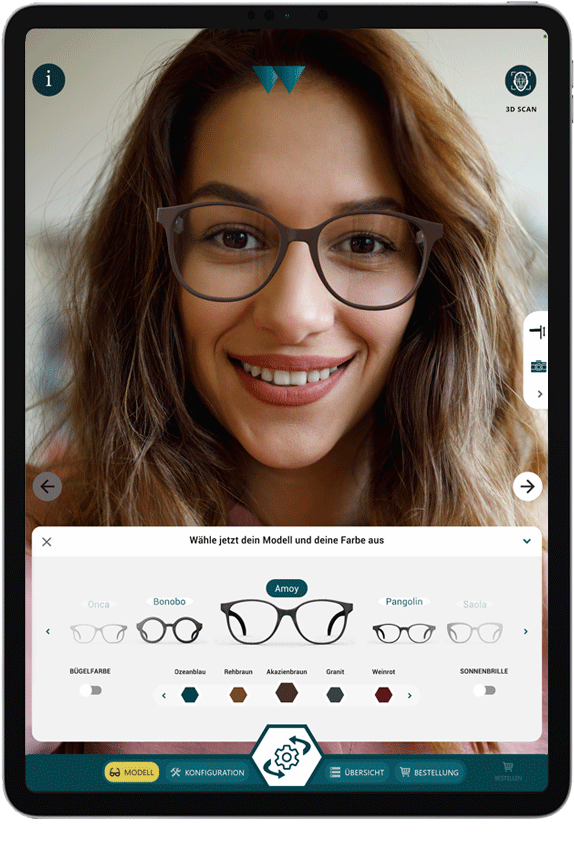 In the app interface various basic models and colours from our collection can be selected. With a few very simple steps, each pair of glasses can be custom-fitted and individually adjusted for each customer.
With the app's virtual fitting, each of our models can be modified in live mode and is available in different colours.
In addition to the colours, the models are adjustable in size, frame thickness, bridge width and temple length.
This means that over 4,000 different designs are possible per collection.
Optional 1-Click Order of standard designs
Made-to-measure glasses on request
Automatic 3D measurement and adjustment
Can be personalised with an individual engraving on the inside of the temple
Self-explanatory interface and very simple user interface
Professional Mode with additional adjustment options (inclination angle, nose pads, bump on bridge section)
Style Advisor: design recommendation based on the shape of the face
Availability of the app for every customer at the App Store with the option of generating the desired setting yourself and transmitting it via QR code to the local optician for final consultation.
Efficient Production Process
The app offers not only creative design options for the customer, it also allows for an efficient production process.
Print-ready data is automatically sent from the app to the 3D printer. So the app not only enables the design of unique and perfectly fitting glasses – the CAD construction of the 3D print data also takes place automatically in the back-end of the app. At the touch of a button, each pair of customised glasses goes straight into production.
WALLENFELS EYEWEAR is available at exclusive opticians.
We are currently expanding our retail network. WALLENFELS EYEWEAR is working together with selected opticians, who will soon be presented at this homepage and will be available via our store finder.
Interested opticians are welcome to contact us at any time!
Contact